Feb. 25th, 2023 6:00 p.m. – 10:00 p.m.
The Women of the Pines will also speak about their upcoming Health Symposium on March 10th.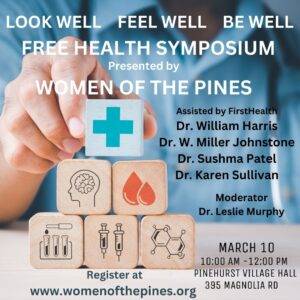 The Details of the Casino Night Event:
Guest-friendly Casino Games for all to enjoy-Blackjack, Texas Hold'Em, Craps, Roulette, Baccarat
Guests will play the games with chips, to trade for tickets to win unbelievable surprise prizes with one being a Grand Prize.
Guests are gifted with a pouch with 1 Free beverage ticket: Wine, Bourbon, or beer. And some game chips.
Additional beverages – wine, bourbon or beer will be a cash bar.
A very impressive wine pull -wines going for some $100 bottles. We are adding a Bourbon Pull this year for all the bourbon drinkers. Along with having a large Roulette Wheel -"A Game of Chance"
We will be having a full night of entertainment on our stage with Musicians, Demonstrations, Singing & Dancing, A Strolling Musician, and a Disc Jockey for Dancing. All our local entertainers have donated all their talents and time to support our community and WOTP. A Special Guest- Miss North Carolina, Miss Lara Beth Jones.
What a feast! White Rabbit is gracing us with 4 delicious stations and passed hors d'oeuvres.
All our committees have worked hard to bring our Signature Event to our Community and to focus on our mission to give back to our communities through researching different charities each year for the needs of our community.
Ladies are creating a Dessert Bar for all the sweet tooths.
Special Guest- Miss North Carolina- Lara Beth Jones
So many sponsors to thank: Our Event Sponsors are:
Republic National Distributing Company, Kitty Cremins
The Southern Pines Brewing Company, McKenzie Sharrow
Aaron McRae- Empire Distributors of North Carolina, Aaron McRae
All this for a low price of $75. And supporting the needs of our community. Please visit our websites to purchase
tickets-womenofthepines.org. Don't delay, we are selling out fast!
Also, you will see on the event page our sponsorships opportunities for the event. We have offered a
Special gift for anyone who brings in one 2023 Title Sponsor
Special thanks to our Sponsorship – Supporting Sponsor- Glenda Kirby;
Our Bourbon & Wine Ambassador sponsors; Helen Kirk, Kathy Newcomb, Ruthie Walker, Changing Destinies
Our Community Helpers Sponsors-Barb Summers, Janice Davis, Susan Goodman, Dentist, Hochstetler Racing
Don't delay, we are selling out fast!
COME ONE, COME ALL
A night to remember with your sweetheart and friends. There is something to enjoy for everyone!
ADDITIONAL INFORMATION ABOUT WOMEN IN THE PINES
Celebrating 50 years in 2024 (1974-2024).
Our Mission- The purpose of this organization shall be to work together to aid those in need in our community.
Membership Process- A prospective member will attend a WotP meeting as a guest of a current member before she may join.
Our charities – all local. Grantees change a bit each year depending on need and who applies for assistance. However-two organizations that received contributions in the early years that we continue to grant to –
Friend to Friend and Sandhills Community College (1993-present)
Fund Raising – we have three events: This year we have our annual bake sale in October, Casino Event is new this year and our annual Fashion Show.